ARTCRAWL HOUTON 2012 - 20TH ANNIVERSARY 11/17/12
Just wanted to drop a line to say that it's just about time for Artcrawl Houston again. It will take place Saturday, November 17th, 2012 in downtown Houston. For map, press release, artist list and anything else you could possibly want to know, check out: http://www.artcrawlhouston.com/
My stuff will be located in the Atelier Jacquinet at 913 McKee st. It is set up and ready to rock! Come down and see all of the artists at the Atelier! Oh, and did I mention that this year is the 20th anniversary? Should be great!
FLATSTOCK 36, SEATTLE - AFTERMATH 9/5/12
Well, we are back from Flatstock at Bumbershoot 2012. We are tired and ready to relax, but man, what a fun time we had there. The weather was beautiful, the seafood was awesome and we made a lot of new friends! The show was great as well having left last year's sales in the dust very early on. I was also interviewed on camera for the Seattle local news, but for the life of me can't find it online anywhere (if it even is online), so If anyone finds it, send me a link. Check out some pics of the show at:
http://ericgonzalezalfaro.com/FLATSTOCK-SEATTLE-2012
The only drawback was that some asshat stole my phone from my booth at the show. And it's not like he mistook it for his/her own because it had a big credit card swipe sticking out of it. I tracked it a few minutes later on my ipad only to see the little icon cruising down the freeway in Seattle. I then sent a message to this idiot letting him know that I knew exactly where he was (and proved it by letting him know what corner he was at). Then being the gutless type that most thieves are, he apparently throws it out in to an open field and leaves it for fear of being caught with it. I remotely wiped the phone. But I guess if there was an intelligence among morons like this, they wouldn't be thieves in the first place, but I digress.
HOUSTON PRESS INTERVIEW 8/15/2012
Aside from doing the actual art, one of the imperatives of an artist is to make people other than themselves aware of what they are doing. Sometimes this is much harder than it sounds. So when it happens, I need to take advantage. The Houston Press did a piece on me for their "100 Houston Creatives" feature and you can read it right here.
Also a big thanks to Serret and Jef Withonef for making this happen.
EMP MUSEUM 7/28/12
Another amazing honor for us, came from the EMP Museum in Seattle. We are very proud to say that 4 of BadMoon's Icon Series prints now reside in the permanent collection of this very hip museum. The pieces are
(of course) The Poet, The Warlock, The Prophet & The Jester.
WE ARE AN OFFICIAL UBERPONG PADDLER 6/22/12
Recently we had the honor of being asked by Uberpong to produce one of their wicked ping-pong paddles.
(We graciously accepted) Uberpong has turned into one of the coolest endeavors to be spawned at kickstarter and we were thrilled to participate. Learn more about Uberpong here.
FLATSTOCK 33 - SXSW 2012 (THE AFTERMATH)
Wow! What a great time we had this year at Flatstock 33 at SXSW in Austin! At the end of the second day, we had already surpassed what we sold during the entirety of last year's show. As usual we completely burned the candle at both ends and came home exhausted, but it was completely worth it. We saw old friends, ate good food, drank good beer and generally just had a lot of fun. We are already developing a plan of attack to make Bumbershoot 2012 in Seattle an equal (or even bigger) success for BadMoon.
On top of the great show, we apparently are receiving a little more exposure in Europe: The Flood Gallery in the UK purchased some prints from us as part of a "Best of Flatstock" show they are putting together. Click here to read more about the show.
Also, I was interviewed by a British fashion related (I think) magazine about the "post-gigposter explosion era", but it was very early and I can't find where I wrote the name down... : P I'll post more about that if I ever discover who interviewed me and for what publication they work.
TEXAS SIZZLER OF DOOM 2012
I actually am a sponsor at this very cool event: The 2012 TEXAS SIZZLER OF DOOM in Hockley, Texas on March, 30th, 31st April 1st! It's an international downhill slalom event and should be a great spectator sport. There will be activities, food, drink and top-notch skaters doing their thang (Texas styles, of course) Click HERE to see the art designed by yours truly, and HERE to learn more about Texas Outlaws Downhill Slalom Team.
FLATSTOCK SXSW - 2012
Hey there!, just wanted give plenty of advance notice or warning as the case may be that I will be at Flatstock at SXSW again this year. I know at least some of you live in the Austin area and I would love to say "hello" in person.
Don't be shy. Swing on by:
Co-presented by the American Poster Institute (API) and SXSW, Flatstock 33 will display the works of more than 100 artists from across North America and the globe. The exhibition is free and open-to-the-public running March 14-17 and features posters representing decades of styles, colors and techniques for sale. Show up early and be ready to be overwhelmed with amazing posters. (You might want to bring some dough since you won't want to leave empty handed!) The exhibition is free and open to the public.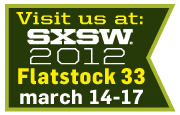 THE ICON SERIES 11/28/2011
Ever have a project in mind that you want to do just for yourself, although you have a slew of people lined-up wanting you to do other things? Really?! Me too! The Icon Series is exactly that... A series of prints that are a tribute to artists, musicians, writers and the like that have had an incredible impact on my life. So far I have plans to produce prints of 8 to 10 subjects, and it may be more. This a personal project for me, so I will not be taking requests, (sorry) but will make the prints available to you, dear patron as they are complete. Check the GALLERY to view the first 2 offerings:
"The Poet" & "The Sage".
HAPPY, HAPPY, HAPPY HALLOWEEN!!! MWAHAHAHA! 10/31/2011
Happy Halloween! Anyone who knows me, knows that Halloween is my absolute favorite holiday in the universe! So I'd just like to say: "Enjoy it and enjoy yourselves, but while doing so, make sure you do not ruin it for someone else!"
WORDS OF WISDOM 10/5/11
"Your time is limited, so don't waste it living someone else's life. Don't be trapped by dogma -- which is living with the results of other people's thinking. Don't let the noise of others' opinions drown out your own inner voice. And most important, have the courage to follow your heart and intuition. They somehow already know what you truly want to become. Everything else is secondary."
~Steve Jobs, 1955 - 2011
Truer words have never been spoken... Rest in Peace, man.
BADMOON AND GHOULTOWN CONTRABAND IN MIDDLE EAST? 9/10/11
I sold a copy of the big Ghoultown - 13 print to a guy in Tehran, Iran a few months back. OK, that was strange enough. The poster took a while to show up but eventually it did. I then received this email via the guys at Ghoultown: "Just came back from our motherf**king central post office, the poster was there, after some struggling they tore it up in public! accused me of having satanic things. you will not believe this, the poster was tore up by two terrorist like officers in SWAT like uniforms, this motherf**kers are doing anything to tension the people. don't know what to say.
By the way I saw the poster it was a print!"
WOW... Makes you appreciate the good old USA!
9/5/11 - BUMBERSHOOT AFTERMATH
What an awesome time we had in Seattle at Flatstock/Bumbershoot! Weather was incredible, sold lots of merch and met a ton a really cool people and fellow artists. We are definitely going back next year!
8/8/11 - INKLINGS
My work will be part of the Pre-Flatstock 31 show called "Inklings" that will be on display at the 112 Printworks gallery in Seattle, Washington - August 20, 2011 from 6:00-9:00 pm. I wont be there, but my work will. Also, buying any pieces of work from this show will support the gallery, so go if you can and buy something!
7/22/11 - TWEETER, TWEETER, PUMPKIN EATER!
OK, so I've started tweeting... Never felt the desire to do it, but I've been advised by social media experts to start. I've only done a couple and I imagine, I'm pretty lame at it so far. Perhaps I'll get good at it. Perhaps I'l neglect it and it will die a slow death - only time will tell. BUT, as we're waiting to find out, you can follow me if you wish... @BadMoonStudios
6/26/11 - THRILLIST
Found THIS on the web from a site called Thrillist. It's a nice little write-up on my stuff which I always like to acknowledge by pointing people back to that site. I can't determine who wrote it, but I do apreciate it it!
6/22/11 - CRITICAL PRAISE
Found two very nice reviews of Flatstock in which my work was mentioned. If you have any interest, read them HERE and again, HERE. Recognition of my work is so infrequent, that I just gotta share when it happens!
6/9/11 - BUMBERSHOOT!
OK, Flatstock in Austin, Texas was soooo much fun, that I just can't wait an entire year before I do it again! That means BadMoon will be taking its traveling sideshow on the road to the Bumbershoot Music Festival in Seattle, Washington! WooHoo! I've never been to Seattle, so I am plenty psyched about it! The Flatstock portion of the festival will be September, 3, 4 & 5th.
3/24/11 - SXSW
SXSW was awesome as usual! The "Ghoultown - 13 Years" poster was unveiled there and it quickly sold out. (Don't worry, more are on the way.) Also, it was great to meet a lot of the other artists from Houston, Texxas. Check the PICS section for SXSW shots and new updates in the GALLERY!
1/22/11 - CINDERCELL BENEFIT
I will be at the 19th Hole in North Houston at the Cinder Cell "Stolen Equipment Recovery Show" to help out by raffling off a piece of art or merch. (Not sure which yet... it'll be a surprise hee hee) FYI Powderburn will be there too!
12/20/10 - HAPPY B-DAY TO ME
BadMoon turns a year older, but it's OK - I probably wont notice as I will likely be intoxicated...
10/30/10 - DANZIG!!!
Nothing gets me feelin' all Halloweenie like a DANZIG show, and yours truly will be doing the Houston show poster. It's Saturday 10/30/10 at The Warehouse Live! Get your evil gear on and check it out!
10/17/10 - INDEPENDENTS
Independents at Jet Bar on Pease St. in downtown Houston. They are one of the most kick-ass bands you'll ever see live. I will most definitely be there, and I'm expecting YOU to do the same!
9/18/10 - LONESTAR METAL MAGAZINE
Lone Star Metal Magazine is a new publication about, duh... Metal in the Lone Star State. I mention this for a few reasons: 1.) It's really cool. 2.) I drew the inaugural cover 3.) They are throwing a big shindig in Houston at which I'll show gig art. 4.) They did a feature on my art in the first issue! Check out the online version here.
8/4/10 - ROCK SHOW
You can now order BadMoon posters through your iPhone or iPad... no shit! BadMoon was invited by the creators
of this cool little app to be a part of its launch party. iPad & iPhone users click here to download the app.
6/14/10 - ZAZZLE STORE
What?! How many online stores do ya need?! One more apparently, although this one does have some unique products that I could never manufacture myself, like BadMoon canvas hi-top shoes, so there you have it. Now leave me alone. Swing on over to my store at Zazzle to check it all out!
4/30/10 - GICLEE´
BadMoon has just acquired a pro-grade, large format printer. The Epson 7900 is made specificly with gliclee printing in mind and can produce huge, high-quality prints, so the gigposters offered here just got a whole lot badder!


4/1/10 - BADMOON ON CAFE PRESS
If I wasn't already a cheesy merch-whore, I am now. Starting NOW, you can go over to Cafe Press
and buy more stuff with my logo smeared all over it. Its got everything from hoodies, to coffee cups to baby clothes!
Come on by and see how much of a sell-out I've become, heh, heh.
3/18-20/10 - SXSW/FLATSTOCK 24
Oh yeah! It's been a while since I've been to SXSW, but I'm going this year! I'll be sharing a booth with Big Rocker
at Flatstock 24 which is presented by the American Poster Institute and SXSW, and will be held for three days,
March 18-20, 2010 at The Austin Convention Center, Austin, Texas.
Of course the music festival portion starts before the poster show, so I'll be checking out the shows
and drinking heavily. I'll try to post which shows I plan to see as soon as I know, but knowing me,
I probably wont get around to it.
3/2/10 - POSTER SHOW
On March 2nd, 2010 at Warehouse Live - Houston I'll have a poster show up in the "Green-Room" at 6:00 pm
before The Dropkick Murphys take the stage. Come by and have a beer with me!
Come for the art and then stay for what is sure to be a kick-ass show by the band.
1/5/10 - "THAT'S NOT ART..."
This isn't really news, but I found this on the web and wanted to share. It's a piece by Brad Holland.
(I've re-typed the text below the image, because I know it's hard to read.)

"THAT'S NOT ART, THAT'S ILLUSTRATION...Everybody is an artist these days. Rock-and-roll singers are artists. So are movie directors, performance artists, makeup artists, tattoo artists, con artists, and rap artists. Movie stars are artists. Madonna is an artist because she explores her own sexuality. Snoop Doggy Dogg is an artist because he explores other people's sexuality. Victims who express their pain are artists. So are guys in prison who
express themselves on shirt cardboard. Even consumers are artists when they express themselves in their
selection of commodities. The only people left in America who seem not to be artists are illustrators."
~Amen to that!
12/25/09 - HOLIDAY WISHES
Merryfugginchristmas!
11/28/09 - MISFITS!!!
Oh Yeah, bitches... Just when you thought Helloween was over, the Misfits come to town to deliver
the Horror-Punk as only they can! I have been working extensively with the band on tour-posters,
back-stage pass designs, souvenir tickets and t-shirts for their current North American tour, so you know
I'll be at the House of Blues to give em a Houston welcome! I expect to see everyone of you there!
I just might be signing commemorative Houston-only Misfits artwork there as well, so come out and
be sure to sport that Devil Lock to show the band how much you love em!
For more info visit: The House of Blues


11/21/09 - ART CRAWL HOUSTON
The day after the Caroline Collective reception, you'll be able to see more of my crap at the 17th Annual
Houston Art Crawl. (busy weekend for me, I'll be sure to drink heavily) It takes place on Sat., November
21st from 10 am - 9 pm. My stuff will be in the Western ElectricBuilding along with a slew of other fine artists.
Dunno when I'll be there, but I'll post again if I figure it out.
For more info, visit: Art Crawl Houston
11/20/09 - THE CAROLINE COLLECTIVE
One of my gigposters has been selected for a Rock Poster art show! The show is being put on by the
Caroline Collective and will represent a cross-section of Houston rock poster art overthe last decade.
Pretty cool, huh? The show goes up at the Collective on Friday Nov. 20 and will remain up through
January of 2010. The reception will be on opening day (11/20/09) at 6:00pm, so come see me.
Which poster was selected you ask? You'll have to come by and see.
For more info visit: The Caroline Collective

The Caroline Collective
4820 Caroline
Houston, TX , 77004
11/1/09 - SWEET!
So, Check this out: I've seen my art reproduced in many ways, newspapers, posters, comics, t-shirts etc, etc,
but never in my life have I ever seen it on a birthday cake...sweet! (literally) I did a piece of art for a client's
t-shirt design using a superhero motif for his company, and then outta nowhere I get this photo of a cake
sportin' my art. Very cool. Not a bad job by the icing guy at the bakery either.
10/31/09 - NEW SITE LAUNCH!!
HAPPY HALLOWEEN! - If there's a better day to launch the new web site, I sure don't know what it is. Some of you may remember that the old BadMoon site went down a while back when I lost the domain name due to a notification error. Well, I've finally snagged my name back and I'm up and running again. I thought about a using another name, but I just couldn't do it. Anyway, I have built this site after teaching myself Dreamweaver, but that in no way, shape or form makes me a pro. There's a crap-load that I don't know about it, so be patient with me, and if you see anything that doesn't work right, feel free to shoot an email telling me how much I suck... Enjoy!